Is Tea Tree Oil Good for New Tattoos? – How Does It React?
Once you get a new tattoo, the first thing you should do is look up how to properly take care of the tattoo. Proper aftercare will make the tattoo show more in detail and also will determine its healing process. For proper aftercare, tattoo owners ask this question- Is tea tree oil good for new tattoos?
Yes, tea tree oil will help the new tattoo to heal naturally without soaking it in moisture. Also, tea tree oil works as a remedy to soothe redness, itchiness, irritation or swelling in the tattooed area. As tea tree oil is made of natural ingredients, no side effects should be noticed after using it unless you have an allergy to the specific product.
Keep reading the piece to know every necessary information you may want to know about tea tree oil.
Is Tea Tree Oil Good for New Tattoos?
Many aftercare products are not suitable for new tattoos because these products contain artificial additives, for example, colors and scents.
But on the other hand, tea tree oil is made of natural ingredients, which makes it fine to use throughout the healing process of the new tattoo. Tea tree oil has astringent properties which brighten the skin and pores.
When discussing aftercare for tattoos, you may want to know- Is jojoba oil good for tattoos?
Jojoba oil functions as a moisturizer and shares chemical similarities with sebum, a substance made by the human body. As a result, a tattoo treated with jojoba oil has access to air while retaining the moisture it needs to heal.
How Does The Tattooed Skin React With Tea Tree Oil?
Using tea tree oil in the tattooed area is generally good for the skin. It soothes redness, and swelling, and regularly using tea tree oil will result in moisturized, smooth, and supple skin.
But not all people have the same type of skin; for some, it may cause irritation and swelling in the tattooed area. Tea tree oil can imbalance the PH in your skin and may affect the skin's moisture barrier negatively. This might cause the tattoos to look a bit dull and faded. So, make sure you're not allergic to tea tree oil before applying it to the tattooed skin.
Recommended Tea Tree Oil for New Tattoos
Product name
Why you should choose it
Where To Get

Naturenics Tea Tree Essential Oil

Creates an essential oil that is pure, highly concentrated, and USDA-certified organic.

Click h

e

re

Artizen 30ml Oils – Tea Tree Essential Oil.

Low price and helps prevent oxidation.

Click here

Jason Natural Tea Tree Oil Body Wash

Includes moisturizing elements to soften skin.

Click here
How to Apply Tea Tree Oil on A Brand New Tattoo.
The first step before applying tea tree oil to your new tattoo will be diluting the tea tree oil. It's because undiluted tea tree oil would be too much for your skin. Once you choose a tea tree oil, follow the steps accordingly to make a diluted ointment.
Carrier oil:

You need to choose a carrier for the oil, for example, vegetables, coconut, jojoba, etc.

Combine and mix:

2-3 drops of tea tree oil should be mixed with every teaspoon of carrier oil. Test: Apply to a test area of skin to check for any reaction

Apply:

Then apply the solution to your tattooed area by gently messaging in your skin. You should not rub it too hard.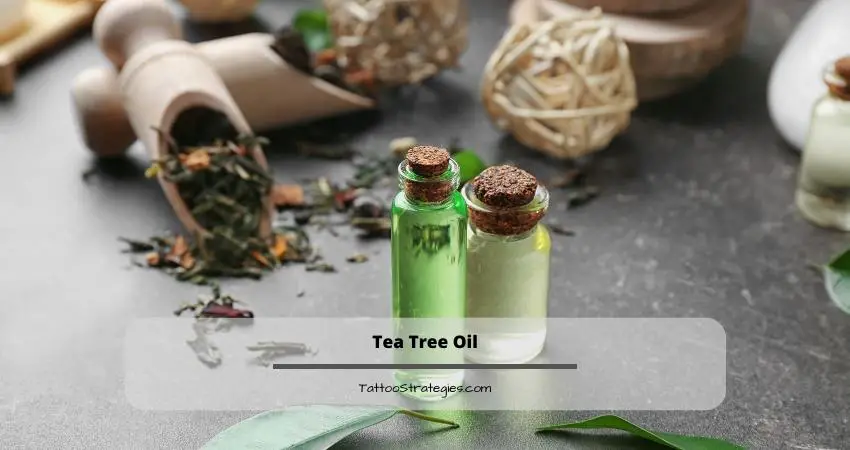 What Oils Should You Not Put on A New Tattoo?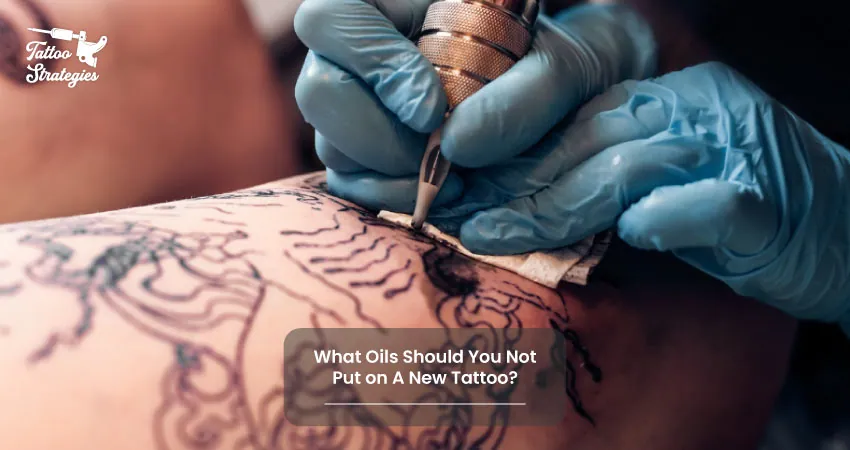 Don't go for products that contain Petroleum and Mineral Oil.
The most common products containing petroleum and mineral oil are:
A+D Ointment

Bepanthen

Aquaphor

Vaseline

Bacitracin

Neosporin.
Petroleum is a mineral oil jelly. Yes! Petroleum, as in gasoline, is the same resource that powers your car. According to clinical studies, mineral and petroleum oils accumulate in the body. Additionally, it worsens hormonal imbalances and leads to cancer.
When you apply petroleum on the sensitive tattooed areas, it seals the skin's surface, preventing natural breathing of the skin. Petroleum suffocates and prevents the skin from evaporating moisture. This may clog pores and result in whiteheads, blackheads, and pimples.
Why would someone use these chemicals on a fresh tattoo? – Mostly because of—misinformation, lack of knowledge, misunderstanding, and ignorance.
Frequently Asked Questions
Does coconut oil affect tattoos?
Coconut oil is good for your skin after you get a tattoo. Fatty acids found in coconut oil in high concentrations help form a moisturizing barrier on the skin. Additionally, coconut oil has demonstrated anti-inflammatory effects that can soothe sensitive, injured skin, similar to skin that has recently undergone tattooing.
How can I clean my tattoo naturally?
Mix 2 tablespoons of yogurt, salt, aloe vera juice, and honey until you get a thick paste. After a half-hour, gently rub the lotion over the tattooed skin and remove it with warm water.
How long does it take to heal a tattoo?
The skin's top layer will usually recover from a tattoo in 2 to 3 weeks. It can take up to 6 months for the skin beneath a tattoo to properly heal, even though it may appear and feel healed, and you may be tempted to cut back on the aftercare.
What essential oils are good for tattoo healing?
Tea tree oil is an excellent choice for natural healing of your tattoo. The antimicrobial and anti-inflammatory properties of tea tree oil comes in handy for this. Coconut oil and Jojoba Oil are two other essential oils you may consider.
Conclusion
Did you find the answer to the question- Is tea tree oil good for new tattoos? Hope this article helped you uncover all the questions you had in mind.
Not just whether tree tea oil is good for new tattoos, we have tried to answer all the similar questions in this article. So, don't overthink whether tea tree makes your tattooed skin worse; it even makes your skin better. Happy healing!