Aquaphor vs. Cetaphil For Tattoos: Which One Is Better?
Choosing the right moisturizing cream for your tattooed skin might be tricky. Two of the most popular choices of tattoo artists are Aquaphor and Cetaphil. So the question remains, which one is better?
While Aquaphor is better suited if your tattoo is still healing, Cetaphil is best for old tattoos. Both these moisturizers are perfect for dry skin and also tattooed skin as they don't have any bad chemicals that might damage the tattoo.
Read on to understand why tattoos need to be moisturized, whether Aquaphor or Cetaphil is better for tattoos as well as the key differences between these two moisturizers.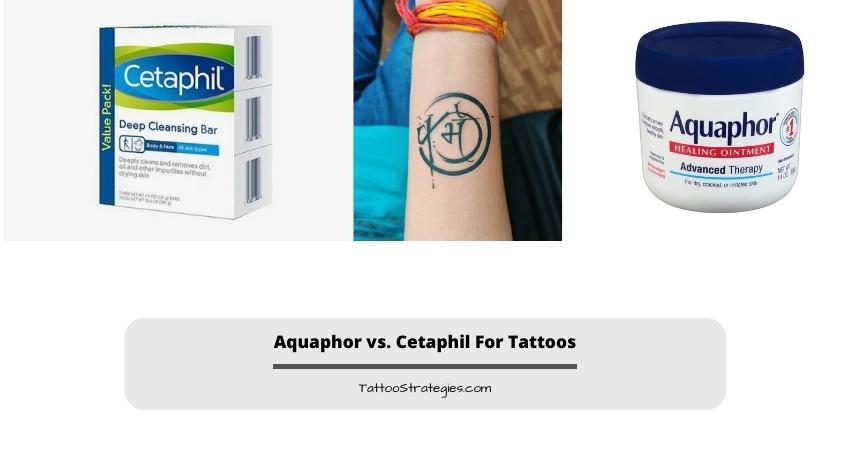 Why do Tattoos Need Products Like Aquaphor and Cetaphil?
Aquaphor and Cetaphil are two popular moisturizing products for tattoos. Moisture is key to ensuring your tattoo heals properly. Preventing a tattoo from drying out is important after obtaining one because dryness leads to severe scabbing and itching, which can be detrimental to the tattoo.
In order to have a tattoo, you have to risk skin damage. Tattoos can scar, get infected, or become misshapen if not given the proper care and time to heal. Your tattoo will be totally healed after three to four weeks.
After getting a tattoo, many tattoo artists advise using Aquaphor or Cetaphil to keep the skin moisturized and free of infections.
Aquaphor vs. Cetaphil For Tattoos: Which One Is Better?
Aquaphor and Cetaphil are well known for keeping dry skins moisturized. And these moisturizers are also known for their suitability for tattooed skin. But they each are better suited for a specific time frame.
Tattoos are a long-time commitment. Even after a tattoo is fully healed, you must take care of it to remain in good condition. Otherwise, all the pains you have gone through for your tattoo will go in vain.
Aquaphor for tattoos
Aquaphor has been shown to accelerate the healing process of fresh tattoos while also protecting them from itching, excessive scabbing, and rashes. During the early aftercare process, Aquaphor is only strongly recommended.
Because it hydrates the skin cells, it enables the damaged cells to repair and re-form the barrier that protects the body.
The formation of scab results in the formation of a barrier that blocks the fusing of skin cells, which is important for the healing process. Aquaphor helps prevent scabs from forming on the skin while preventing the skin from being too hydrated. As a result, the tattoo will have a more steady chance of healing correctly.
Cetaphil for tattoos
Cetaphil is a mild moisturizer that won't irritate the skin and can be applied to tattoos of any color. It is also good for your skin, which makes it an excellent lotion to use on tattoos.
It can be used on sensitive body parts, like around the eyes or nose, without damaging the skin, as some other products might because they are too harsh.
Cetaphil doesn't contain soap, so it won't take away your skin's natural oils like regular soaps might, and it's easy to wash off with water without needing to scrub hard. Overall, Cetaphil is the best choice for people with tattoos, whether new or old.
Major Differences Between Aquaphor and Cetaphil
Aquaphor is an antibiotic, whereas Cetaphil is a moisturizer. Ointments are greasier than lotions. For this reason, the composition includes more oil than water or other substances. Ointments last longer than lotions, so they seal in more moisture.
So, Aquaphor is a skin ointment with healing ingredients that serve as a shield and moisture to heal wounds and treat eczema.
On the other hand,  Cetaphil moisturizing cream is a mild cleanser that removes dirt and bacteria while hydrating skin. Aquaphor contains mineral oil, lanolin alcohol, ceresin, panthenol, glycerin, petroleum jelly, and bisabolol. Aquaphor contains occlusive ingredients. Occlusive moisturizers seal the skin to keep in moisture.
Cetaphil moisturizing cream contains water, cetyl alcohol, propylene glycol, sodium lauryl sulfate, and petrolatum. Petrolatum is mixed with other substances to make it more liquid. Dimethicone, stearic acid, methylparaben, and propylparaben are other Cetaphil components. These make it thicker than Aquaphor.
Aquaphor includes petroleum jelly, a mineral oil-and-wax mixture. It protects and hydrates the skin. Cetaphil lacks petroleum jelly and mineral oils.
Another difference is price. Aquaphor is pricier than Cetaphil. And most importantly, Aquaphor is the perfect moisturizer to use during the healing period of the tattoo. On the other hand, Cetaphil is ideal for use on old tattoos.
Let's look at these key differences at a glance.
| | | |
| --- | --- | --- |
| Differenciating Factors | Aquaphor | Cetaphil |
| Product Type | Ointment  | Lotion |
| Ingredients | Mineral Oil, Lanolin Alcohol, Ceresin, Panthenol, Glycerin, Petroleum jelly, and Bisabolol | Water, Cetyl Alcohol, Propylene Glycol, Sodium Lauryl Sulfate, Petrolatum, Dimethicone, Stearic Acid, Methylparaben, and Propylparaben  |
| Cost | Expensive  | Cheap |
| Usage | During the healing period of a new tattoo | After the healing period of a new tattoo |
Why Is Tattoo Aftercare Important?
Getting a tattoo is not an easy task. And by that, we don't mean the procedure of getting a tattoo only but also maintaining the best form of the tattoo. To do this, you must put emphasis on the aftercare of tattoos. 
Some of the reasons why tattoo aftercare is important are stated below:
It maintains your tattoo's appearance.
It's important to preserve your tattoo over the first several days while it heals. You'll want a beautiful tattoo to last a lifetime. Therefore, you'll want to maintain it looking great throughout the years.
It prevents infection.
Poor aftercare could contaminate your tattoo. Your skin will be irritated following the tattoo, but your tattoo artist should apply a dressing immediately. This will guard it against infection.
Aftercare products help aid in healing.
Using aftercare products such as Aquaphor or Cetaphil lotion helps heal. As tattoos are a wound, you need to pay attention to their healing.
FAQ
When should lotion be used on tattoos?
As soon as your tattoo begins to dry out, not before, you should begin moisturizing it. In most cases, this will occur within the first few days following getting your tattoo.
Make sure to use antibacterial soap to clean and dry your tattoo, and choose a moisturizer that is right for it as well.
Can you put too much moisturizer on a tattoo?
No, you should not as over-moisturizing may harm your tattoo. The tattoo will be unable to dry out and heal because there is too much moisture. Furthermore, when there is too much moisture, bacteria and germs can grow easily. And as a result, your tattoo can get infected and swell up.
How often do you need to put lotion on a new tattoo?
For about two weeks, you should put lotion on your clean tattoo three to six times daily. Even though taking care of your skin is always important, most tattoo fans will moisturize their tattoos daily for the rest of their lives. Use a fragrance-free, white-cream lotion or moisturizer!
Conclusion
Thank you for reading the whole article. As discussed in this article, both Aquaphor and Cetaphil are excellent choices for tattoos. But at the end of the day, it depends on your tattoo which is better. Lastly, keep in mind to check the ingredients of any product that you wish to use on your tattooed skin.