Can You Get A Tattoo After Surgery?
Surgery opens the body, and the body becomes susceptible to infections and diseases. A tattoo might seem like a bad idea for its use of inks and other chemicals. But, is it, though?
Can you get a tattoo after surgery?
Well, the answer is yes. You can get a tattoo after surgery. But, it is recommended that you wait 6-7 weeks for the stitches to heal before you get under the pen.
To answer all of your questions regarding this question, we have spent countless hours compiling this article with all the necessary details. Let's dive into it!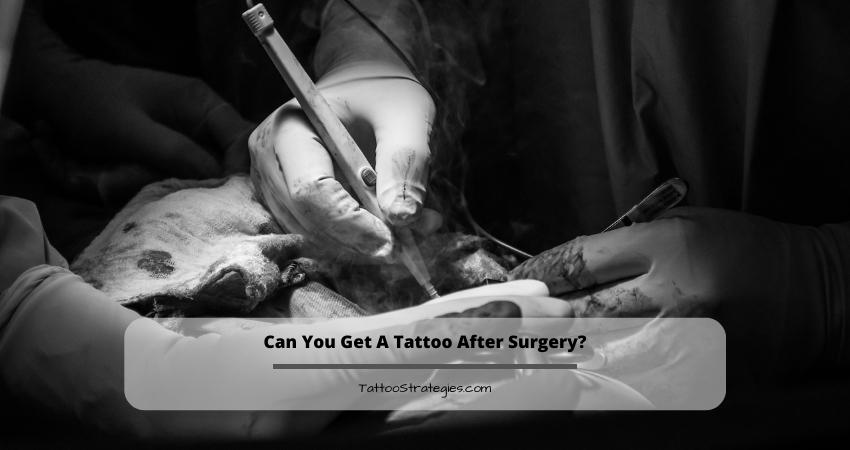 Can You Get A Tattoo After Surgery?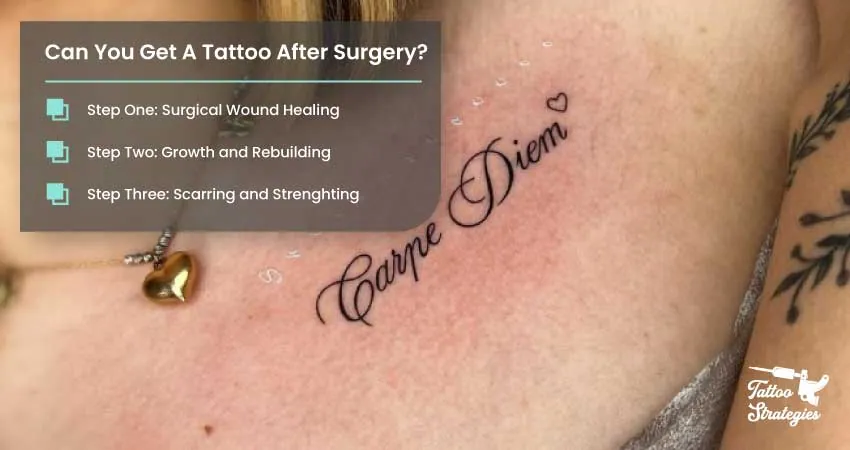 Well, the answer is technically yes. You can get a tattoo after surgery. But, you must wait for it and let your body heal properly. Doctors recommend waiting 4-6 weeks before you get all inked up. 
To understand why you have to wait to get a tattoo, first, you have to understand what happens to your body after surgery. Your body is a self-repairing machine, and it heals itself over three steps. 
Step One: Surgical Wound Healing
The healing process starts immediately after the first incision. While the first cut is made, your blood starts clotting to create a scab to protect the area. Blood vessels provide much-needed oxygen and nutrients to the area to heal. The nutrients and oxygen ensure enough white blood cells to fight off germs and bacteria. This phase may last for six days.
You cannot get a tattoo during this phase. Your body is already weak and working to repair a wound. A tattoo can be a bit too much for it. Also, the ink of the tattoo can cause an infection.
Step Two: Growth and Rebuilding
After the initial healing process, your body starts the rebuilding process.
The wound starts closing up, and the blood vessels start repairing themselves. New tissues start growing, and soon, new skin also starts growing. The skin covers the broken area to provide protection.
The body is still weak at this point. Your immune system is still busy fighting off germs, and introducing a foreign object such as ink might not be a good idea. A tattoo might not seem like a good idea.
But you can get a tattoo at this point. You have to ensure the tattoo won't be near the surgery spot. You still have a high chance of getting an infection in this phase.
Step Three: Scarring and Strenghting
The third and final step to the healing process is scarring and strengthening.In this step, scabs start falling off, and scar tissue becomes visible over the wound.
Scar tissues are a way for the body to heal and shield the surgery spot. This can fade away gradually over time, but it can also remain visible.
You can get a tattoo over the scar tissue. The ink won't undo the healing if the spot has adequately healed.
What May Happen If You Get a Tattoo After Plastic Surgery?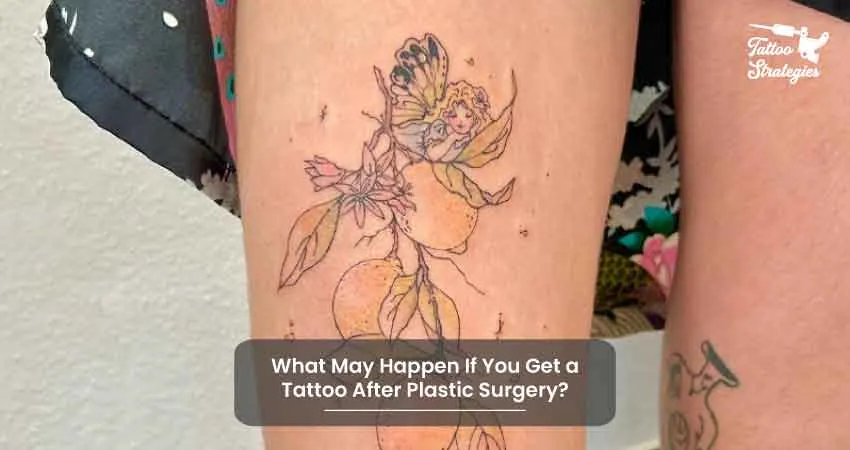 Getting a tattoo after plastic surgery is very common now. People usually think that the healing period of both procedures is the same. So, one can get a tattoo immediately after plastic surgery. This is a dangerous notion.
You can get a tattoo immediately after plastic surgery if both spots are far from each other. Suppose, you just had a tummy tuck, and you want to get a tattoo on your arm. Logically, you can get the tattoo. But, medically speaking, the tattoo might be the wrong choice. 
In any surgery, the risk of infection is the doctor's primary concern. Your body needs time to heal and fight off infections. Tattoos are infamous for their long healing times. They are also notorious for causing infections and inflammation. If your body is weak and the tattoo somehow causes an infection, then you are in for a horrendous ride of pain and suffering.

Doctors recommend waiting 4-6 weeks after surgery to get a tattoo. If your body has ample time to heal, Then getting a tattoo would feel like a breeze.
How Long After Surgery Can You Get A Tattoo?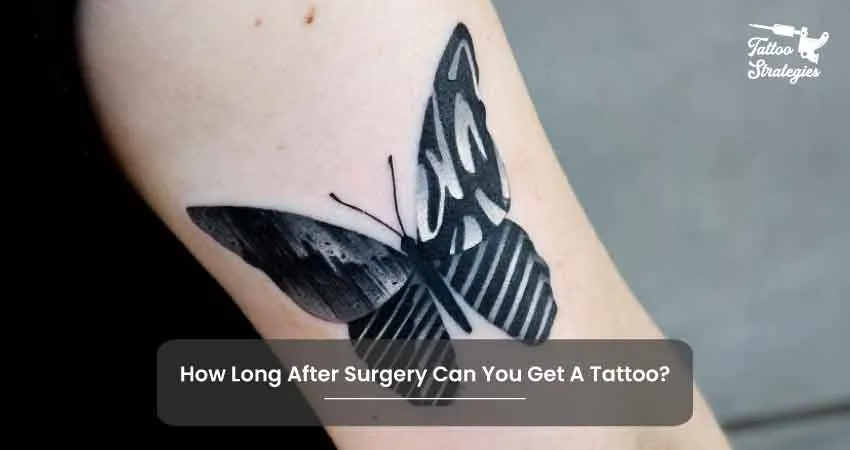 To get a tattoo, first, you have to know how much time your surgery wound needs to heal properly. Different types of surgery need different amounts of time to heal.
| | |
| --- | --- |
| Surgery Type | Healing Time |
| Gall Bladder Removal  | 3 to 4 weeks |
| Coronary Artery Bypass  | 6 to 12 weeks |
| Laparoscopic Surgery | 1 week  |
| Hysertectomy  | 6 to 8 weeks |
| C-section | 6 weeks |
From looking at the table, you can easily calculate how much time your body needs to heal properly. After the required healing period, wait 2-3 days extra to ensure. Consult your doctor and tattoo artist before you go under the pen.
Can You Tattoo Over Tummy Tuck Scars?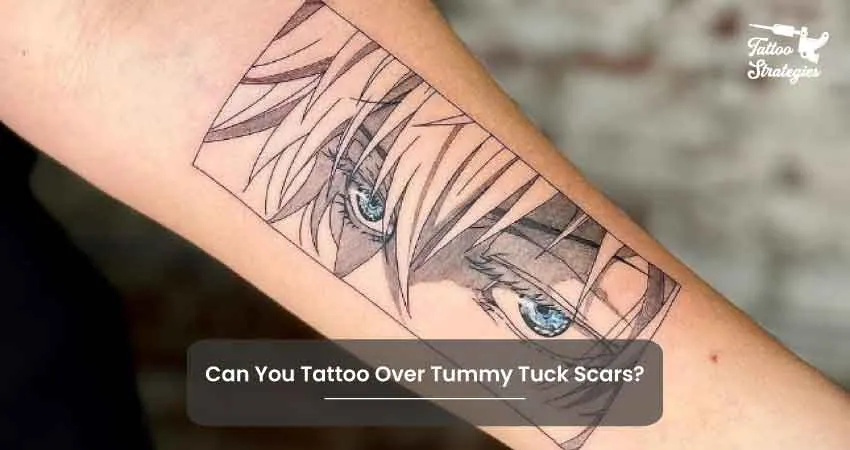 Getting a tattoo to hide tummy tuck scars is becoming increasingly popular. Well, a tattoo is an effective way to hide scar tissue, but you have to wait for one year to get a tattoo.
Tummy tucks are the most popular plastic surgery out there. Tummy tucks remove the excess fat and make you slimmer. The scar tissue that forms after a tummy tuck can be insecure for people. These prominent scars stand out and might make you feel wounded.
Tattooing over the scars is an effective way to hide them.
You must wait one year to get a tattoo over your tummy tuck scars. If your scars turn lighter in color and are no longer raised, then your scars are perfectly healed. Now, you can sit back and choose your design.
What Can You Do Instead Of Tattooing Over A Scar?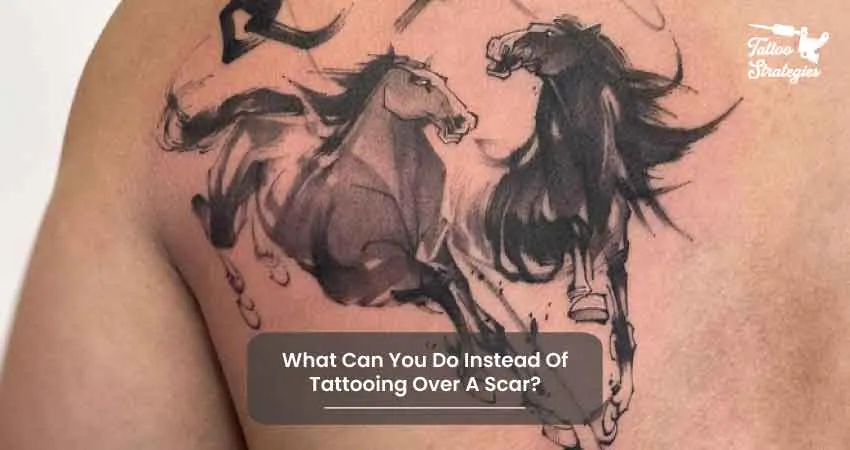 While Tattooing over a scar is a popular way to hide it, Some people do not prefer a permanent tattoo.
Sometimes, the tattoo over the scar might appear vague or faded. The design can also appear distorted due to the scars. What should you do if you face this problem? Are there any other ways?
There are permanent tattoo alternatives that can hide your scar. They also allow you to remove or change them as you please. These are:
Henna
Henna paste has been used in the Indian sub-continent for thousands of years. This mildly aromatic paste can create temporary designs over the skin.
Henna tattoos can last up to 2 weeks, and they are entirely harmless. The problem is that every time you apply henna, you must create a fresh batch of henna paste.
Microneedling
In this process, a derma roller or pen is used on the skin's surface to generate microtrauma. It allows the skin to relax and smoothen out the scar tissues. The micro-trauma created in the skin encourages the body's wound-healing response, making scars more even. It enables the formation of collagen and elastin, which promotes skin regeneration.
Jagua Ink
Jagua ink has been used to create temporary tattoos among the South-American tribes for ages. The ink is extracted from the Jagua fruit. It is a popular way to ornate your body.
The ink or dye is applied over the skin. The dye needs a few hours to set properly. After setting, the tattoo takes on a blueish or black color. The tattoo is temporary and usually fades away over time.
Will My Current Tattoo Affect my Plastic Surgery?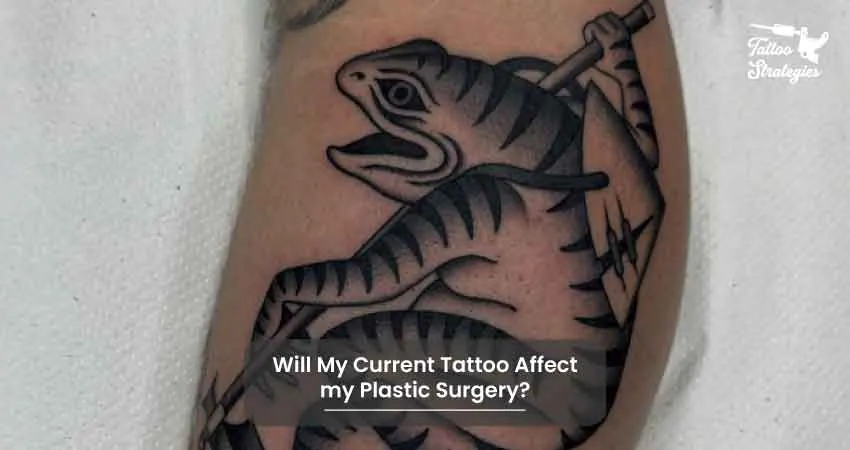 If you already have a tattoo, it probably has already healed. It poses no threat to your surgery. The only real threat is that the tattoo might become deformed.
When your tattoo ages, the risk of getting infections decreases. Your tattoo won't affect your surgery. Instead, Your surgery might affect your tattoo.
For example, Let's say you have a butterfly tattoo over your belly, and you have to get laparoscopic surgery. The surgery will ruin the design of the tattoo. The resulting scar tissues will make your tattoo appear to deform.
If you need surgery on a tattooed area, you can opt for a tattoo removal procedure. It's better not to have a tattoo compared to a deformed one.
How Soon After Laparoscopic Surgery Can I Get A Tattoo?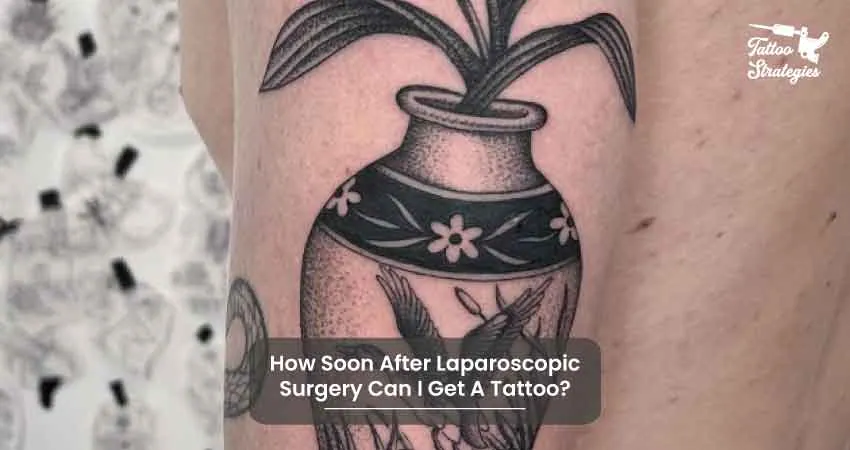 It takes one week for a person to recover from laparoscopic surgery. So, you have to wait for a week before you get a tattoo.
Laparoscopic surgery is a minor surgery performed by making a small incision over the underbelly. It is used to check the abdomen and women's reproductive organs. It is minimally invasive.
You can easily get a tattoo after the wound heals properly. It takes about one week. Doctors recommend waiting for ten days before you get on the operating table again.
Can I Get A Tattoo 3 Weeks Before Surgery?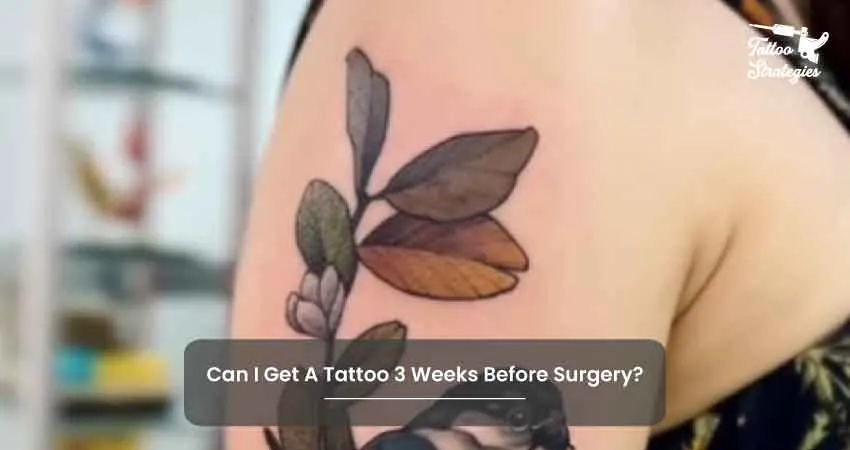 You shouldn't approach getting a tattoo three weeks before surgery. Getting a tattoo before surgery sure can be a risky business.
Your body takes 4-6 weeks to heal properly after getting a tattoo. Sometimes tattoos can cause infections and inflammations. A tattoo can even cause a staph infection. This weakens your immune system.
When you are going under the blade, you have to be properly healthy. Whether the procedure is rhinoplasty, appendicitis, or gall bladder removal, surgery is a significant thing. If your body is already under stress for healing from a tattoo, then it will not heal properly after getting surgery.
Can You Get A Tattoo After Gallbladder Surgery?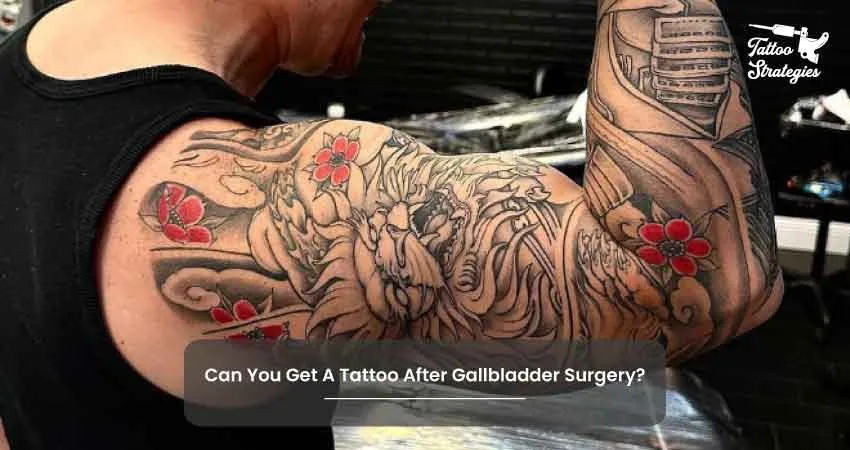 Gallbladder surgery is widespread, and you can get a tattoo after it if your body has ample time to heal. Gallbladder surgery requires the removal of stones that form in the gallbladder. Sometimes, the procedure involves the removal of the entire gallbladder.
The healing process takes a heavy toll on the body. Your body needs four weeks to heal properly. The healing period can vary from person to person. After proper healing is ensured, you can get a tattoo. Before getting a tattoo, consult your doctor and tattoo artist.
Conclusion 
Well, Now you know that you can get a tattoo after surgery without any adverse health effects. But, you have to wait for 6-7  weeks after the surgery. If you feel unsure about permanent tattoos, you can look at henna tattoos, microneedling, or jagua ink as a temporary solution.
We hope this article helped you in search of your quest and now you know how much time you need before you can get a tattoo. Now, Sit patiently and count the clock!