What Gloves Do Tattoo Artists Wear?
When the ink is applied, tattoo services typically expose the client to blood and other biological fluids. When working on a patient, employees in this delicate field should put on disposable medical-grade safety gloves to prevent infection. So, what gloves do tattoo artists wear?
The preferred option for this kind of task is a pair of black nitrile gloves! They are thin yet nevertheless able to handle hours of nonstop work, and they provide the highest protection and safety. These gloves are excellent all around and are non-allergic.
Every conceivable facet of the question of what gloves tattoo artists should wear has been considered. So stick around to learn more.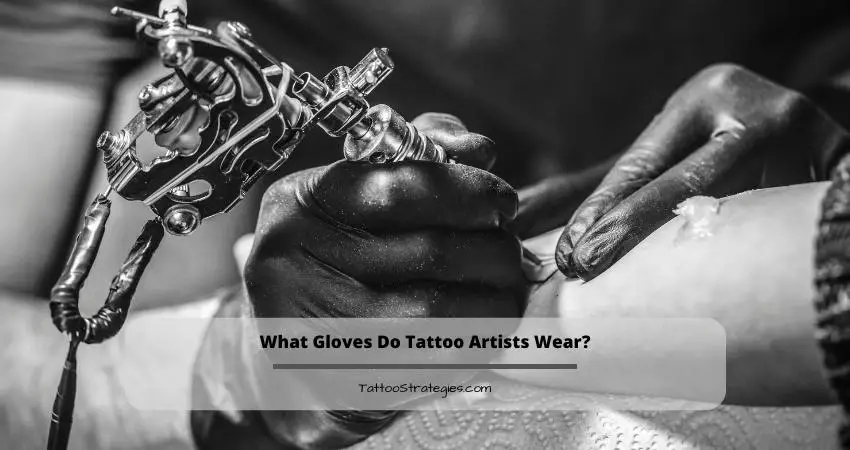 What Are Tattoo gloves, and Why are They Important?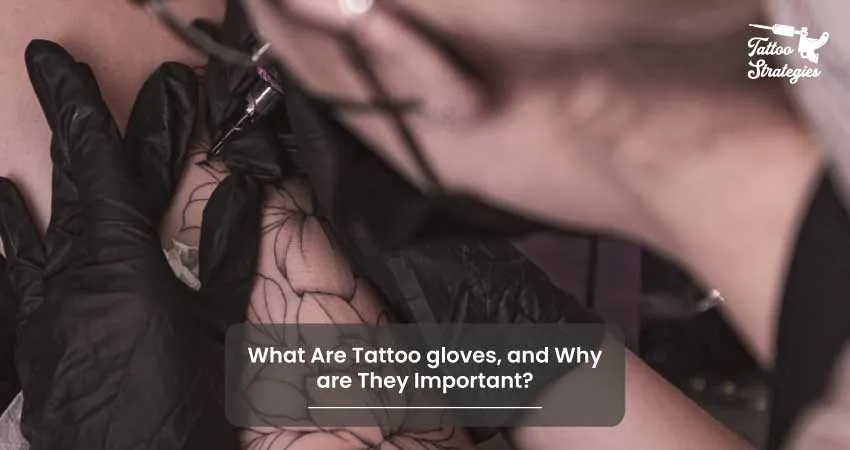 Tattooing is all about technique, attention to detail, and artistic expression, but before any of that can happen, the correct tools must be used to complete the task. This includes gloves in addition to needles and sterilization equipment since the proper glove may free up your hands to perform at their highest level.
In contrast, the incorrect glove might be uncomfortable or even harmful.
Why are tattoo gloves different from a regular pair of gloves?
Because tattoo gloves are medical-grade examination gloves that help to guarantee the artist is protected from fluids. To ensure that tattoos are administered safely and hygienically, tattoo gloves are crucial. They offer a barrier that safeguards both the client and you, the tattoo artist, as well.
Tattoo artists and their clients are at a high risk of contracting an infection from each other due to how intimately tattoos are placed. It's especially crucial to take precautions and make sure you're wearing a high-quality glove because getting a tattoo involves repeatedly jabbing a needle into your skin, leaving your skin more prone to infection.
Gloves assist in reducing this danger and improve the safety and sanitary conditions for all parties concerned.
Why Do Tattoo Artists Use Black Gloves?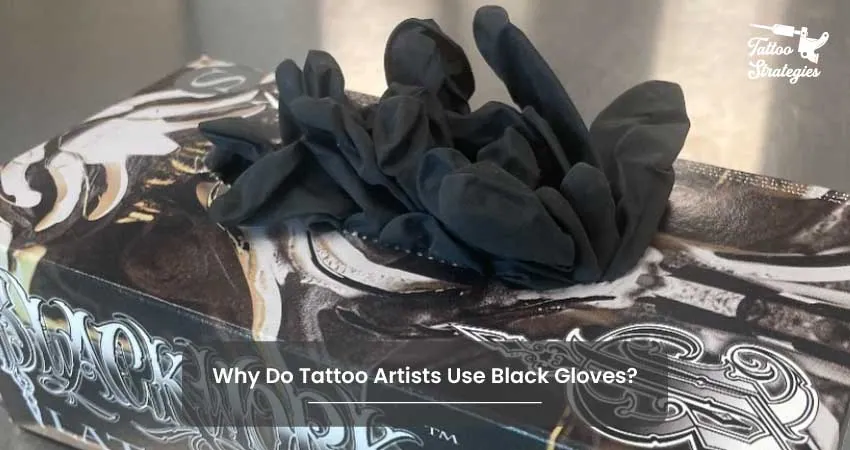 Because nitrile gloves are comprised of black material, having high puncture resistance, higher chemical resistance, increased durability, and increased flexibility. Since nitrile gloves don't contain latex, they are perfect for those allergic to the material.
The ideal gloves for comfort and accuracy are black nitrile ones. Due to their strength and assurance that the gloves can safeguard both the tattoo artist and the customer during lengthy tattoo sessions, they provide the tattoo artist with comfort.
The tattoo artist may use more exceptional dexterity while still doing fine, intricate work thanks to these gloves. Compared to other glove kinds, nitrile gloves are more affordable and offer more protection. Cross-contamination is less likely with nitrile gloves since they are less porous and have superior chemical resistance than latex.
Vinyl gloves are prone to breaking owing to their delicate glove coating and cannot endure the demanding conditions placed upon them during the tattooing process. According to research, when put under stressful settings, they fail 61 percent more frequently than nitrile gloves, which only fail 3 percent of the time.
Because nitrile gloves are highly elastic and conform to the hand, hand tiredness is decreased, and job productivity is increased. Nitrile gloves are less dangerous for the environment than their vinyl cousins, which after disposal, release dioxins and vinyl chloride monomers.
3 Compelling Reasons for Using Tattoo Gloves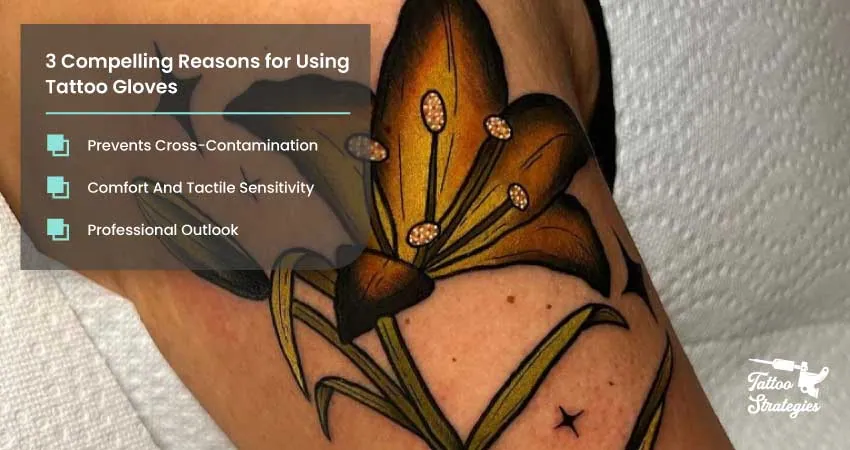 Here are some key reasons why a tattoo artist should be aware of using the right pair of gloves.
1. Prevents Cross-Contamination
Medical-grade disposable gloves are used in the tattoo business to avoid cross-contamination between clients and employees. When the ink is applied, tattoo services expose the client to blood and other biological fluids.
Inks and dyes are injected into the customer's skin to apply the tattoo. Blood and other body fluids may leak as a result when the tattoo is being drawn or placed.
Because he needs to disinfect the area where the tattoo is being done, the tattoo artist comes into touch with these biological fluids. The tattoo artist is protected from these body fluids by wearing gloves while at work. 
Additionally, it guarantees that the consumer won't come into contact with any blood or body fluids that the tattoo artist's hands may have.
2. Comfort And Tactile Sensitivity
Let's not forget that tattoo artists use sharp instruments that might cut exposed hands. Tattoo gloves are also made to give the wearer more comfort, dexterity, and tactile sensitivity.
Tattoo gloves are comfortable to wear despite the high amount of hand protection they offer. 
Medical-grade tattooing gloves are created specifically to meet the needs of the tattoo artist and guarantee tattoo comfort, exceptional dexterity, and highly tactile sensitivity. These gloves are incredibly stretchy and fit snugly.
3. Professional Outlook
Last but not least, tattoo gloves improve the tattoo artist's image as a professional in his job and in terms of hygiene. The advantages of using disposable safety gloves at a tattoo business will now be discussed.
When working, tattoo artists select gloves that are the appropriate color. Like in the medical field, they may choose a hygienic hue like blue or white, or they can be edgy and hip and choose black. In keeping with the sanitary requirements of tattooing, these gloves create a professional image of the artist and the workspace.
Nitrile Gloves Versus Latex and Vinyl Gloves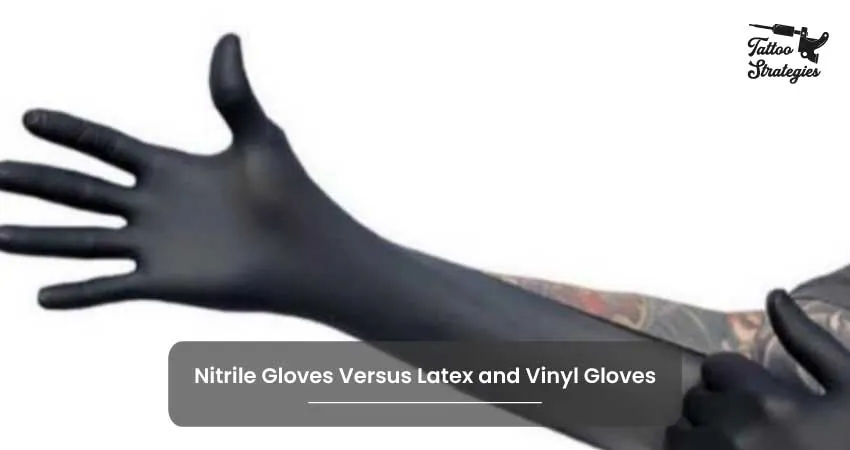 Several body painters favor nitrile over conventional latex and vinyl because:
Nitrile is more resilient to punctures, shielding both the artist and the customer from any contamination.

The nitrile material is flexible and pleasant enough for prolonged usage, which lessens hand fatigue.

A tattoo artist often completes extremely intricate work. Compared to vinyl gloves, which can be larger and lack grip, nitrile gloves allow for superior control and precision.

Both patients and artists might be sensitive to latex.
Factors to Take into Account When Choosing the Best Tattoo Gloves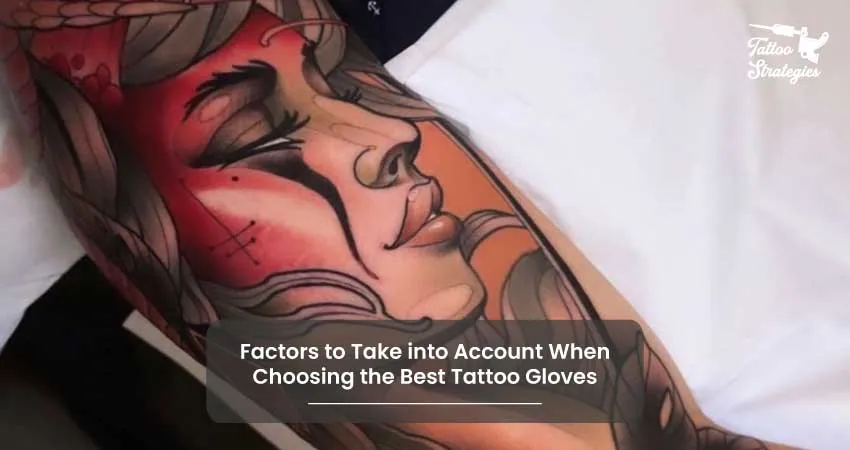 Gloves come in a broad range of styles, sizes, and constructions, so before making a purchase, consider the following details to help you decide:
Material
To make tattoo gloves durable and retain a high degree of medical grade protection, three major materials are used in their manufacture. Some of these gloves could be useful to one person, while others might be better suited to another.
Latex gloves
Latex gloves are readily accessible, reasonably priced, and strong.
In addition, latex is resilient, flexible, and, regardless of hand size, an excellent match for the artist. Additionally, it helps protect against piercings and wounds. However, certain people, particularly those with sensitive skin, might experience mild to severe allergic responses when exposed to latex. Depending on the customer, it may also be crucial to discuss allergies with them as a safety measure. 
It is advisable to utilize powder-free gloves, such as Nitrile or Vinyl gloves, rather than disposable latex gloves if the person tattooed has a latex allergy.
Vinyl gloves
Vinyl gloves are more comfortable to wear over time since they are made of a tougher, more enduring material. Your hands are shielded from infection and ink by vinyl. Additionally, they are utilized as protection when handling substances like chemicals, oils, and other things that might hurt your exposed skin.
However, compared to latex gloves, these are thicker and more resistant to exposure, which can make it difficult for the artist to work.
Nitrile gloves
Compared to vinyl and latex rubber gloves, nitrile gloves offer several benefits. Nitrile gloves are thinner than vinyl but tougher than latex and more pleasant than genuine latex. As a result, nitrile gloves offer an extraordinary level of mobility without sacrificing safety.
Comfort
Tattoo artists sketch a client's design for hours at a time, which takes a lot of time, patience, and attention. To ensure that they can utilize their hands to their maximum ability, it is crucial to wear the best gloves possible that still allow for finger movement.
But it all relies on the kind of gloves you're wearing. Contrary to latex and nitrile gloves, which provide the strong grip and sensitivity required for tattooing, vinyl gloves, although being the most common in spas and beauty salons, do not.
Fit
The glove's fingers should not be too short or too long for a suitable fit, nor should they be excessively tight or loose. Due to the huge variation of hand sizes and shapes, finding the proper fit for your hand can be difficult. From brand to brand and from person to person, hand sizes might differ.
Dexterity
Numerous elements connected to the thing being handled determine how easily it can be handled and/or controlled. Finding the kind of gloves that will allow for enough dexterity will take some time, but once you do, you won't want to use any other style of glove again.
Color
Of all the hues offered, black tattoo gloves are the most prevalent and well-liked. This is because no other hue conceals pen stains, as well as black, does.
Best Gloves For Tattoo Artists
| | | | |
| --- | --- | --- | --- |
| Boots | Comfort | Cost | Durability  |
| Infi-Touch Heavy Duty Nitrile Gloves | High | Affordable | HIgh |
| Microflex Black Nitrile Gloves | High | Affordable  | High |
| Gloveworks Black Nitrile Gloves | High | Affordable | Low |
| ASAP Black Nitrile Gloves | Low | Affordable | High |
| Barber DTS Black Nitrile Gloves | High | Affordable | High |
Infi-Touch Heavy Duty Nitrile Gloves
Product information:

The Infi-Touch nitrile gloves are made to last through the toughest tattoo sessions and other heavy-duty operations. The gloves are single-use and without powder. They are also chemical resistant, safe, and devoid of latex, so there are no issues with allergies. The size of the gloves is Medium.
Key features:

High chemical resistance, tactile sensitivity, puncture-free, latex-free, beaded cuff, and textured fingers.
Use:

The gloves may be used for industrial usage, professional tattooing, hair coloring, maintenance and cleanup, working on cars, and tattooing on one's body.
Microflex Black Nitrile Gloves
Product information:

These gloves are made to safeguard against certain chemicals or ink while remaining sturdy and cozy during any type of labor. These tattooing gloves offer a secure grip and do pick up ink after several hours of use. They are devoid of latex, resistant to chemicals, and generally safe for prolonged usage, even for those with sensitive skin.
Key Features:

Advanced protection, a firm grip, ease of handling wet surfaces and objects, latex-free, allergen-free, available in a variety of sizes.
Use:

The gloves may be used for cleaning, hair dyeing, hair styling, automobile repair, mechanic work, industry use, and tattooing.
Gloveworks Black Nitrile Gloves
Product Information:

The Gloveworks nitrile gloves are excellent because they allow for correct finger and hand movement despite being somewhat thicker than normal nitrile gloves.
Despite being disposable, these gloves are robust and long-lasting. Each set of gloves is designed to resist hours of tattooing or other mechanical labor as well as punctures, damage, and wear. The gloves are free of latex and have textured fingers for improved grip.
Key Features:

Several size possibilities, puncture and damage resistance, a polymer coating, textured fingers, and a lack of latex and powder provide great grip on wet surfaces and objects.
Uses:

Applying tattoos, working on cars and other vehicles, handling chemicals in the workplace, dying and styling hair, and general cleaning.
Product Information:

The ASAP gloves have proven to be immensely helpful throughout the tattooing process despite being initially intended for inspection reasons.
The gloves offer excellent ink protection and stop the spread of germs from the customer to the tattoos. They are also latex-free, so anyone who is sensitive to latex won't have any adverse reactions.
Key Features:

Strong puncture resistance, powder-free, latex-free, beaded cuff, full-hand texture, 4 mils thick, many size options, black, and chemical and ink-resistant.
Use:

The gloves may be put to use for lab work, medical examinations, tattooing sessions, and even simple medical fieldwork.
Barber DTS Black Nitrile Gloves
Product Information:

Since the gloves are completely devoid of latex, the possibility of contamination during tattooing is reduced.
This further reduces the danger of infection and inflammation of the client's tattoo by making sure everything is clean and hygienic while tattooing. The gloves are meant to fit snugly and pleasantly and are available in a variety of sizes.
Key Features:

Black and stain-resistant, constructed from premium nitrile, strong puncture and damage resistance, free of latex and powder, available in a variety of sizes, and pleasant to wear during extended tattoo sessions.
Use:

These gloves were created especially for tattoo artists, and they should only be used when getting a tattoo.
FAQs
What do tattoo artists use as a glove coating?
Petroleum jelly is used. Tattoo artists use their therapeutic qualities to benefit their customers. It helps hydrate parched skin and treat minor injuries.
What thickness is ideal for tattoo gloves?
If all else is equal, a thicker glove will outlive a thinner glove. According to many, the rubber should be at least 3.0 mil thick in order to avoid tearing during protracted tattooing sessions. For heavy-duty work, 5.0 mil to 7.0 mil nitrile gloves is advised.
Conclusion
Have you figured out which gloves tattoo artists ought to use? We expect a positive response because we believe we have covered all aspects of the subject as we offered the top five goods and determined the deciding elements. Your decision will make you pleased. Wish you luck!