How to Get Tattoo Stencil Off Skin? [3 Quickest Ways]
Tattoo stencils are getting increasingly popular among tattoo artists. Thanks to the stencils, artists are making fewer mistakes, and the clients are also getting accurate results.
But sometimes, tattoo stencils stick to the skin, making them difficult to remove. And this can make you think, "how to remove tattoo stencil?"
Tattoo stencils can be easily removed with the help of soap and warm water. There are some other ways too by which you can remove the stencil marks from your skin, like using stencil remover spray and Dettol.
This article will answer everything you may ask about removing stencils off your skin. Let's dive right in!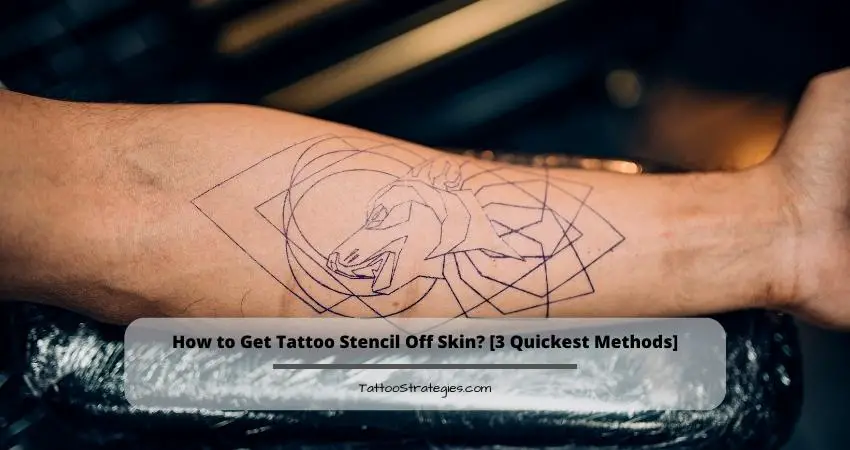 Do You Have to Remove Tattoo Stencil?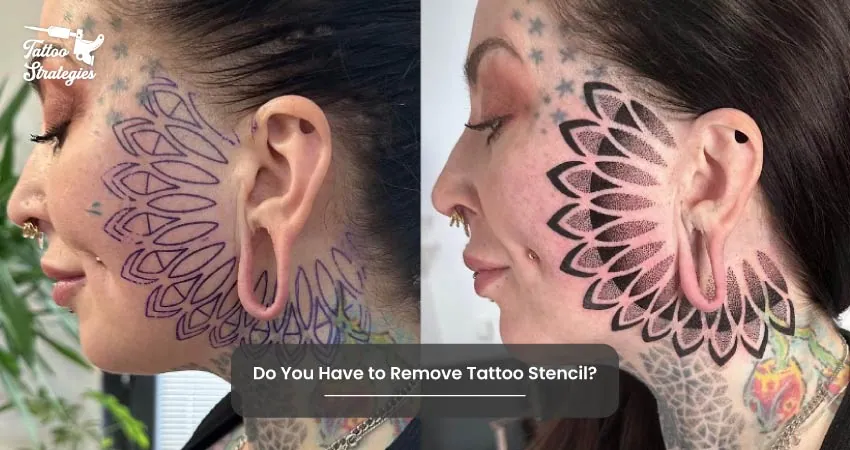 No. You don't have to be crazy to get rid of tattoo stencils. Remove it if you are in a rush, like if you need to attend a program or other urgent situations. But it's also okay to leave it because tattoo stencils will come off naturally every time you wash the tattoo.
However, the fact is, tattoo stencils don't let the tattoo look as beautiful as it is. So, if you need a flawless look as soon as possible, you can take action to remove the stencils.
Tattoo Stencils: Are they removable?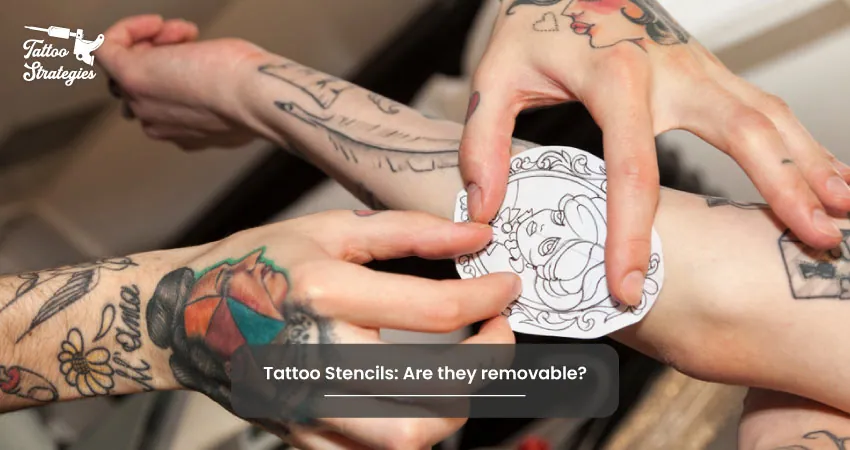 Tattoo stencil marks can be a nuisance if you don't clean them properly because your new tattoo will not look good if your tattooed region has traces of stencil ink.
The good thing is that these tattoo stencils eventually come off. The amount of time it takes to remove the tattoo stencil will depend on the ink used to create it and the type of skin you have.
But the question that you might be wondering is, "how long does a tattoo stencil last?"
Some stencil colors, like red, could fade more slowly than others. On the other hand, the purple stencil color takes less time to fade. According to Tattoo Thrive, tattoo stencils last a few days to weeks.
How to Remove Tattoo Stencils: What to Use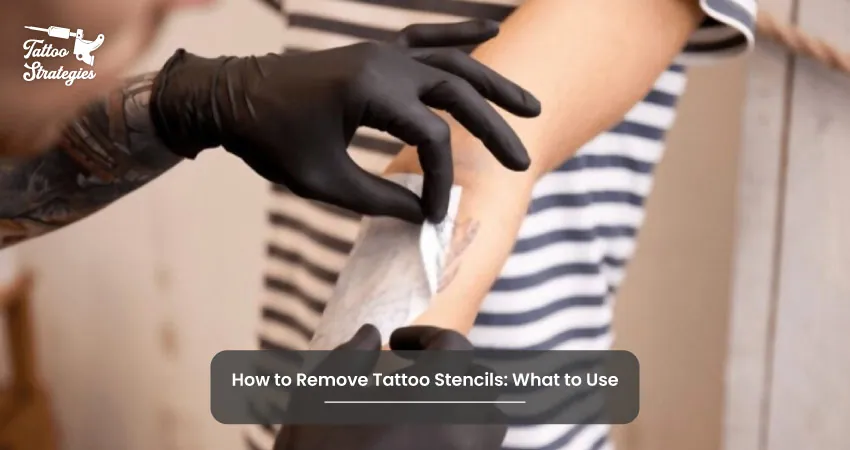 Aniline dyes, which dissolve in water, are used in tattoo stencils. Alcohol is soluble in the wax coating (also known as the wax covering on tracing paper), which is used to mix the colors into the hectograph paper.
Let's explore some efficient ways of removing the tattoo stencil lines.
1. Using Soap and Warm Water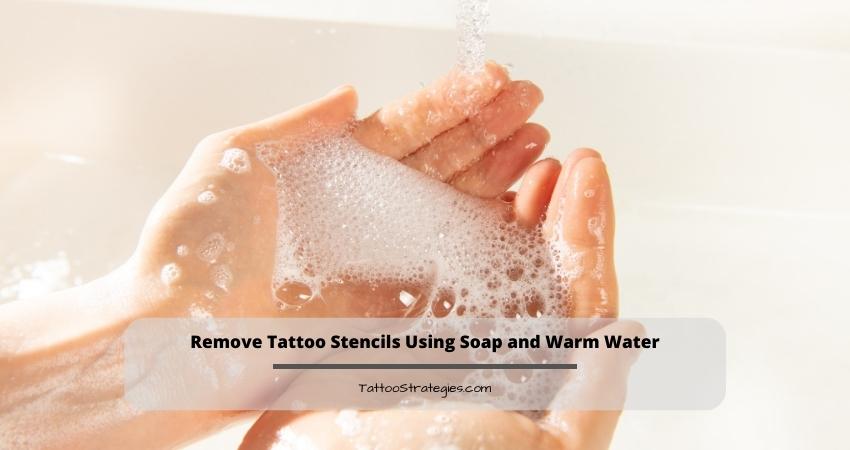 Simply using soap and warm water will be best to remove the stencil lines off your skin. Follow your tattoo artist's aftercare instructions, which typically call for cleaning your tattoo using soap and warm water. After a few washes, the stencil lines will disappear.
2. Using Stencil Remover Spray
If you are a tattoo enthusiast, then you might invest your money in a tattoo stencil remover spray. This is a great alternative to soap and warm water as this method can remove tattoo stencils really quickly. In just a few rubs, these sprays can remove the stencil lines.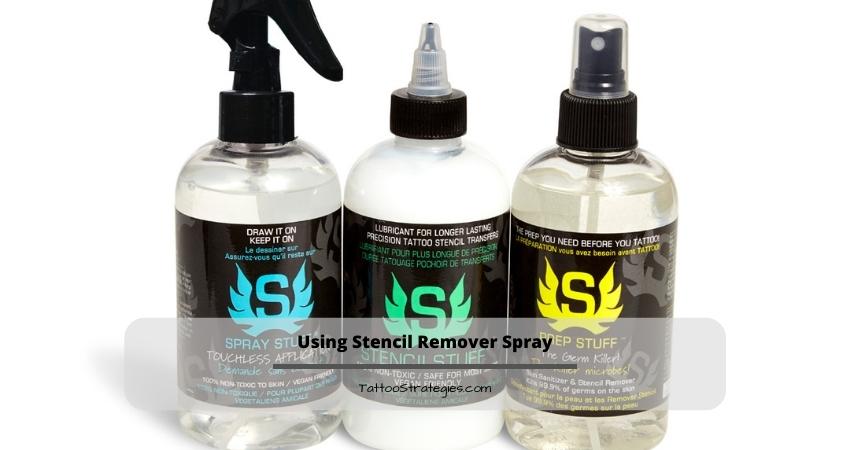 There are numerous options available. But you must choose an option that is made from natural ingredients. This is because using chemicals can be damaging to your tattoo as well as to your skin.
3. Using Dettol
This method is not recommended, but you can use this at your own risk because this method might hurt you quite. To remove the tattoo stencil lines, you must dilute the Dettol liquid heavily in water.
The healing of your fresh tattoo may be somewhat hampered by this. Although this approach is not advised, it can be helpful if you are desperate to get the stencil lines off.
Please refrain from rubbing your fresh tattoo with anything, including cloth or a fingernail brush, as this might seriously harm your new ink, slow down the healing process, and even cause your tattoo to scar your skin. Moreover, it will hurt.
Under no circumstances should you use bleach or other common household cleaners on your new tattoo since this can harm your skin more than it will remove your tattoo stencil lines.
How Do Tattoo Stencils Work?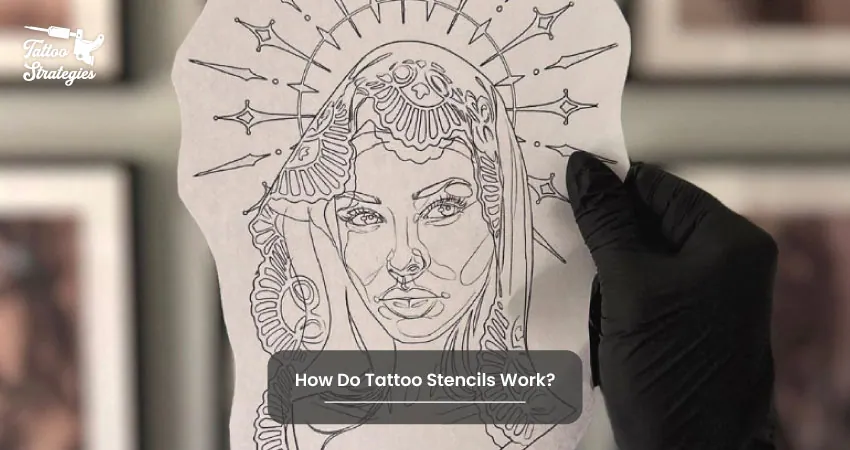 A tattoo stencil must stick to your skin for the artwork to be completed exactly as it was meant. With tattoo stencils, a tattoo artist can see the design they will be inked on a client.
But if done wrong, tattoo stencils won't stick to your skin. And this might make you think, " why won't my tattoo stencil transfer?" There is a particular way of making the stencil stay on the skin.
You can guarantee that the design will remain intact during the whole tattoo procedure by putting deodorant on your skin just before applying the stencil.
The tattoo artist will transfer the stencil to the skin's surface once it has been cleaned and made smooth. The tattoo is then thoroughly examined by the customer and the tattoo artist to ensure that it is properly positioned.
Frequently Asked Questions
Why Do Tattoo Artists Use Stencils?
Tattoo stencils are used by tattoo artists for a variety of purposes. The tattoo stencil is the artist's reference when drawing the tattoo design's outline.
During the tattooing procedure, the artist will typically maintain the existing artwork close at hand to be used as a comparison to ensure they are not making any mistakes.
Additionally, tattoo stencils save time since they allow the artist to focus more of the tattoo sessions on coloring and detail rather than investing a lot of effort in the tattoo's outline.
What chemicals are in tattoo stencil ink?
The chemical formula for the tattoo stencil has a preservative commercially known as Germaben II and contains 56% propylene glycol, 30% Diazolidinyl urea, 11% methylparaben, and 3% propylparaben.
Can I create tattoo stencils with a standard printer?
Yes, you can make tattoo stencils with an ordinary printer. However, you are not allowed to use ordinary paper. You'll require thermal paper, carbon transfer sheet, or perhaps even temporary tattoo paper in its place.
Conclusion
Tattoo stencil marks can be a headache if you don't know how to clean them. But thanks to this article, you know how to remove tattoo transfer ink from skin. If you want to have the best version of your new tattoo, then make sure to clean up the stencil marks.