Is Castile Soap Good For Tattoos?
Getting a tattoo is a painful process, and maintaining the tattoo is hard. Using the wrong soap on the tattoo will disrupt the healing process as well as destroy the quality of the tattoo. You might be thinking then, "is castile soap good for tattoos?"
Dr. Bronner's Castile Soap is perfectly safe for your tattoos. Thanks to organic ingredients like water and glycerin that don't cause any harm to your tattooed skin. The other active ingredients of Castile soap include plant-based oils making it a stand-out product compared to the other options.
To know about these and other things, read this article right now!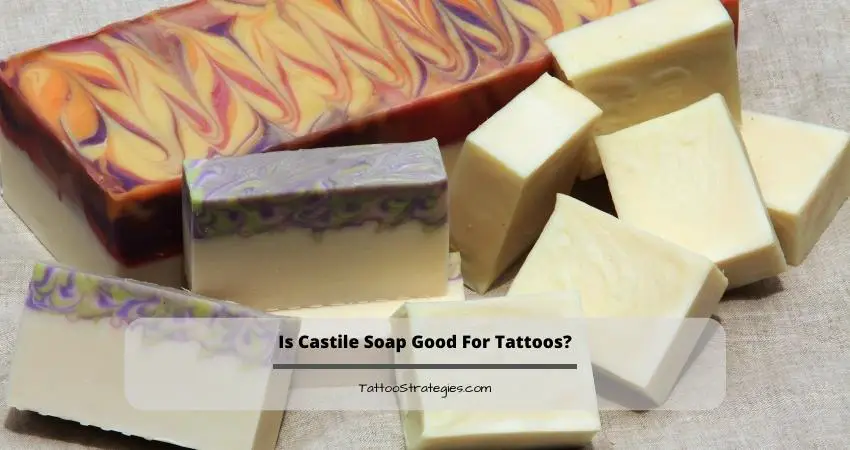 Tattoo Care with Dr. Bronner's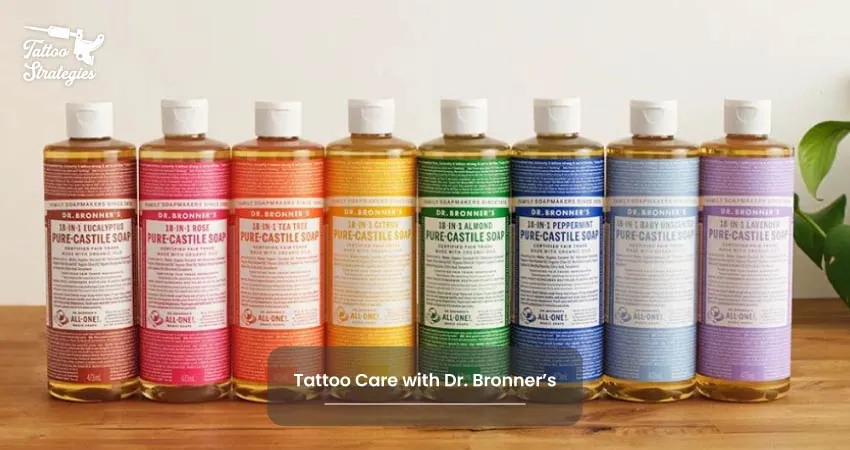 Dr. Bronner has many cleansers, moisturizers, and soaps on their product list.
But as you know, not every type of soap or similar product suits tattoos. Hence, the question that you might wonder is, "can I use Dr. Bronners on my tattoo?"
The answer is a big, fat yes. Dr. Bronner's soaps and balms have long been coveted for tattoo aftercare by tattoo artists. This is because their cleansers and moisturizers are quite effective yet gentle on sensitive skin.
Here's what happens to your skin when you get a tattoo-Ink is injected deeply into the skin using tattoo guns with swiftly moving needles, creating what is basically a wound. It's crucial to take good care of the tattooed skin in the first few weeks if you want to avoid infection.
Organic material helps the wound heal at a faster pace. The products of Dr. Bronner are mainly organic, which makes them ideal for tattoo aftercare.
Castile Soap for Tattoos – Advantages & Drawbacks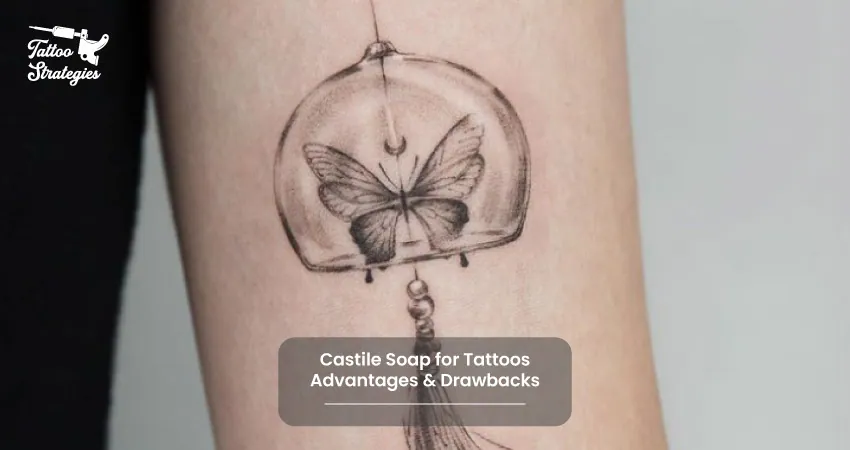 It is pretty clear that Dr. Brooners is an excellent brand for tattoo aftercare. And one of the most popular and well-received products of Dr. Bronner is the Castile Soap.
But still, many tattoo enthusiasts are not fully sure about using soap on their tattoos. So, it's pretty normal if you think, "is castile soap safe for tattoos?"
Yes. Like most other products of Dr. Bronner's, their castile soap is also safe for tattoos.
The first castile soap was made with Olive oil from Spain's Castile region. Although it can also be purchased in bars, castile soap is most frequently encountered in liquid form.
Most of the Castile soaps produced now are prepared from coconut oil, which is more widely available and less expensive than olive oil.
Castile soap is best thought of as "real soap," produced by combining organic fats and oils with a base including potassium or sodium hydroxide. If any chemical goes into the tattooed skin (which is basically a wound), then the risk of getting an infection gets higher. Let's look at some of the advantages of Castile Soap.
Castile soap's advantages
First off, Castile soaps are a kind yet powerful skin cleanser. The saponified oils make it extremely moisturizing, so even while it can remove even the toughest filth, your skin probably wouldn't feel unduly dried out or tight.
Vegans can also benefit from the fact that Castile soap is entirely made of vegetable fat rather than animal fat, which is one of its distinctive qualities. Additionally, since the soap you are using is extremely concentrated, you may use less of it and create less waste.
Castile soap's negative effects
Since Castile is a genuine soap, its pH tends to be higher, making it harsher and more drying when in touch with the skin for an extended period of time, such as when washing a sinkful of dishes.
How to Make Castile Soap Diluted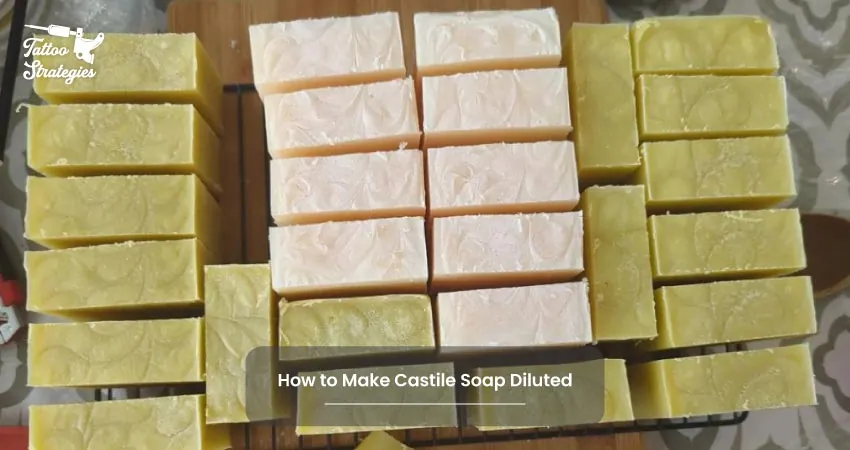 In order to use the Castile soaps of Dr. Bronner in a convenient way, it is important to make them dilute. Castile soaps come in liquid form and are highly concentrated. Using this soap without diluting might make your skin coarse.  In this situation, you might wonder, "how to dilute Dr. Bronner's soap for tattoos?" In order to dilute Dr. Bronner's soap, you will need three items.
You will need to add 7.5 ml of soap with approximately 240 ml of water to make a dilute soap solution, according to Dr. Bronner's All-One. Put the solution into a spray bottle, and it will be ready for use on your tattooed skin.
Ingredients of Some of The Popular Soaps for Tattooed Skin
Here are eight selected soaps found in the market for tattoos and pointed out the active ingredients used in them. Have a look.
| | | |
| --- | --- | --- |
| Soap Brand | Active Ingredients | Why Should You Choose It? |
| Dr. Bronner's Castile Soap | Plant oils | Uses organic ingredients.  |
| Dial Gold Antibacterial Bar Soap | Benzalkonium Chloride 0.10% | Has impressive antibacterial powers.  |
| Tattoo Goo Deep Cleansing Soap | Chloroxylenol (PCMX) and Sodium Lauryl Sarcosinate (Lauricidin) | Prevents irritation. |
| WOO Gentle Cleansing Tattoo Soap | Sodium cocoate | Can be used on a daily basis. |
| H2Ocean Blue Green Foam Soap | Benzalkonium Chloride | Has a cooling affect. |
| Aveeno Daily Moisturizing Body Wash | Water and Glycerin | It's completely unscented. |
| Neutrogena Original Fragrance-Free Facial Cleansing Bar | Triethanolamine | Has no harmful chemicals and safe for using in face.  |
| Billy Jealousy Tattoo Wash | Cucumber Extract and Rosemary Oil. | Makes your tattoo look fresh.  |
Frequently Aasked Questions
Is Dr. Bronner soap antibacterial?
Dr. Bronner's soaps do not contain antibacterial agents. However, they do contain organic substances, which are antiseptic and antimicrobial for various cleaning requirements. For a strong natural antibacterial powerhouse that you can truly sink your teeth into, consider Dr. Bronner's Tea Tree Castile Soaps.
What makes castile soap so unique?
Castile soap is a remarkably adaptable vegetable-based soap that is prepared without artificial chemicals or animal fats. You may get this organic, non-toxic, biodegradable soap in bar or liquid form. Before its use expanded to Europe, castile soap was produced in the Mediterranean region.
To Sum Up
We appreciate your reading thus far. Although getting a tattoo is incredibly thrilling, you need to be cautious when selecting the aftercare supplies, especially the soap. Castile soap is made from plant-based oils which are safe for the tattooed skin. Make sure to use products just like the Castile soap.