What To Wear To A Hip Or Thigh Tattoo Appointment
Your clothing does not matter much if you want to tattoo areas like the neck, wrists, and hands. But not all spots are so easily accessible. You need to wear suitable outfits if you plan on getting a hip or thigh tattoo. Wondering what to wear when getting a hip tattoo or what to wear when getting a thigh tattoo? We can be of help!
What To Wear For A Hip Tattoo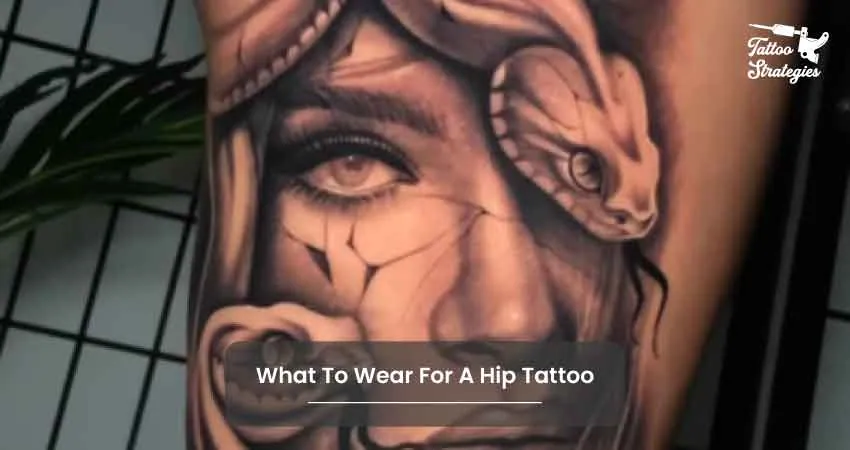 Before Your Hip Tattoo Appointment
What to wear to get a hip tattoo? To prevent the ink from ruining your clothes on the day of the tattoo, you can consider wearing anything loose that can be easily rolled up or removed entirely. The latter is the best option if you feel comfortable with the situation, as it will completely eliminate the risk of your clothes getting in the way.
You do have a handful of attire alternatives to choose from when getting a hip tattoo. For ladies, maxi dresses that are long and flowy are a great option. You can pull it up and wrap it around your upper body to stay warm and covered. If you don't want to show your underwear, try bikini bathing suit bottoms.
Loose shorts that you can easily pull down can also work for both men and women. However, you might have to adjust it frequently throughout the procedure. Any clothing that is loose and can be easily moved around the body is a sensible pick for hip tattooing. They will allow you to expose the hip without revealing your privates.
After Your Hip Tattoo Appointment
While your hip tattoo is healing, you should wear loose clothing since the tattooed area needs as much air as possible to recover. This could be a flowing dress or skirt that barely touches the tattoo. Wearing anything that sticks to the tattoo or irritates the region is not a good idea. So, don't think of wearing jeans anytime soon.
Make sure to wear clothes that grant easy access to your hips. You must keep the area moisturized so that it heals faster. For ladies, knee-length skirts and thigh highs can be excellent workplace attire, while gents can opt for lightweight trousers. Of course, confirm beforehand that it goes with your workplace culture.
Baggy jeans and yoga pants might also be fine as post-hip tattoo apparel. Wear something loose enough so the ink won't dry and stick to it. It is not enjoyable at all to peel your jeans off a dry tattoo. We believe loose shorts and skirts are your best bet to protect your freshly done hip tattoo.
As for underwear, thongs are the obvious choice as they don't have any hip coverage. But they are not everyone's cup of tea, so you can also go for seamless undies. Always choose cotton as it offers maximum breathability. There are also some string-bikini-like undergarments that barely cover the hip region.
What To Wear For A Thigh Tattoo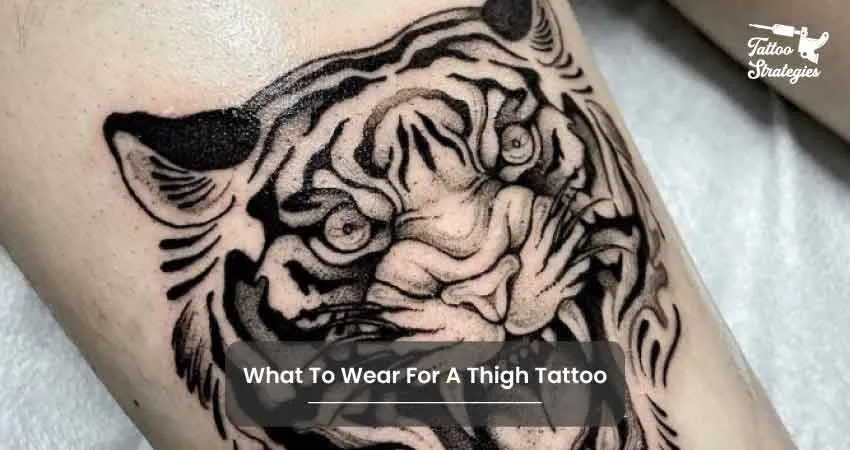 Before Your Thigh Tattoo Appointment
Nothing too tight, nothing too loose-that should be your clothing mantra for a thigh tattoo appointment. Rolling them up would be a nightmare if you wear too tight dresses. On the contrary, too loose clothes would require adjusting far too often. They might fall off from rolled-up positions and get inked in the worst-case scenario.
Shorts would be a unisex recommendation. They are easy to roll up and reveal the thighs. Consider wearing loose-fitting, baggy shorts that you can tape or tuck away. Ladies can also wear long-slit skirts that provide instant access to the thighs. Bottom line, wear anything that is comfortable and makes it easier for the artist to get your thighs.
Bikini, beachwear, and boxers are the best choices as they keep the thighs exposed. But not all of you might feel comfortable sitting in a tattoo parlor in such skimpy clothes. You can ask the tattooist for a privacy screen so that nobody in the parlor gets to see you other than the artist working on your tattoo.
After Your Thigh Tattoo Appointment 
Avoid wearing tight jeans for the first few weeks. Wear loose shorts or trousers that rub against the tattooed area as little as possible and won't put too much strain on the design. You can consider slightly larger pants as part of your thigh tattoo aftercare regimen. Wearing two-size larger pants might hurt your sense of fashion, but it could be a worthwhile sacrifice to make.
Final Words
Without appropriate clothing, you would risk ruining your tattoo and clothes. We strongly advise against wearing your favorite outfits during a tattoo session. They might never be the same if you get ink on them. Trust us, you would regret it! Wear clothes that make your hips and thighs easy to access.