Can A Model Have Tattoos?
Being a model and getting a tattoo comes with a long list of dos and don'ts. It raises concern for those eager to do both. But what if they are mutually exclusive? Can you be a model if you have a tattoo? 
The truth is, there is not a direct answer to that question. Most employers would prefer if you have no tattoos. But beauty standards are constantly changing for the better. As a result, some of them might respect your decision to get a tattoo and employ you as a model.
Yeah, brace yourself. This one may be a more complicated topic than you thought, but it will hopefully clear all your confusion soon.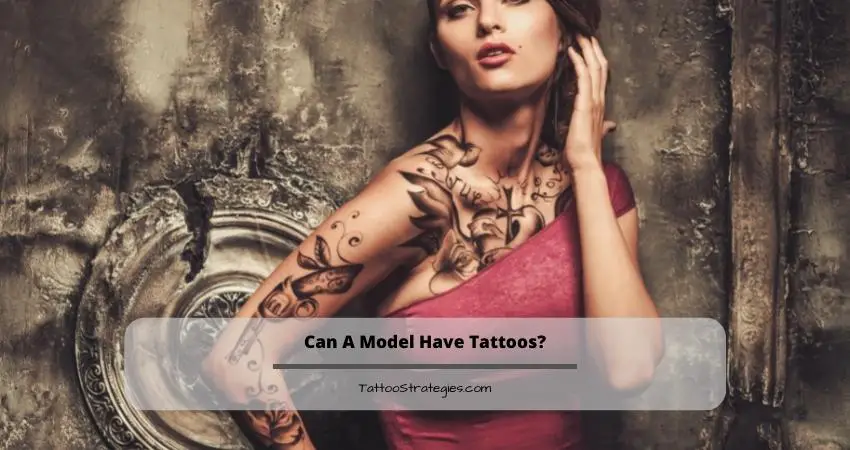 Are Models Allowed To Have Tattoos?
Technically, yes. Models are allowed to have tattoos. But in reality, they may have to struggle to land high-end gigs. It will be highly challenging if the tattoo is easily noticeable.
Most designers and agencies will prefer if you do not have any body art because they want their clothing designs to be the center of attraction. So it bodes well for their business if the models do not come with tattoos.
Some employers look for models with no tattoos during the casting. For example, emerging models with the ambition of winning beauty pageants should not have tattoos when competing in a contest. The reason is that the contestants, especially the champion, will represent people regardless of age. Therefore, the representative should not carry something within themselves that does not suit everyone.
Besides, tattoos are permanent, and you cannot remove them whenever you want. They may even go out of style sometime. And there is always the risk of getting criticism from the media. So, employers are often against it to steer clear of negativity.
Did I make your heart sink in disappointment? Wait. Here is the good part.
On another note, the modeling industry has become exceptionally inclusive these days. Employers are more open to diversification. Also, they prioritize showing respect to the personality of each model.
You just have to find those designers and apply to work with them. But if there are not many, there are still no reasons to get disheartened. There are specific model agencies that work with tattoo models.
Model Agencies That Allow Tattoos
IMG Models
It is one of the leading modeling agencies, the turning point in many models' careers. It provides all kinds of services, representing a good portion of the most paid models in the industry. IMG Models always allows its employees to have tattoos since it often takes on tattoo-specific art projects. It is appreciable how the company does not hesitate to acknowledge and recognize its tattoo models.
Tattoo Life
Everything in the company is about tattoos. It has a tattoo magazine and a website about its tattoo models. Since it hires models with tattoos, it can be your first choice if you have tattoos but want to become a model.
It is even more suitable for models with larger tattoos. If you browse its website, you will find that many models have full-body tattoo designs. Observing, you will notice most of them have a specific pattern or style of tattoo. That will give you an idea about their work projects and whether you should apply.
The website also features interviews with its models. You should read them to learn about the workplace environment.
Go Models
This one is a globally available online modeling company that enables you to begin your modeling career from home. It is also interested in doing business with tattoo-related content.
You will see models posing with their arms, leg, and back tattoos on the agency's website. Moreover, several courses and videos discussing the bits and pieces of modeling competitions are there to give you valuable information. Check them out when you visit the portal.
If you find everything suitable, you can register yourself and apply online. 
TattooModels
It is also a modeling agency committed to working directly and particularly with people having tattoos online. It owns the record of being the first online platform for modeling and hiring alternative models. The agency is a go-to choice for individuals with tattoos. As you have noticed, only a handful of employers directly involve tattoo models in their work.
However, the company sometimes includes partial nudity, which might be a matter of concern for some candidates.
World Tattoo Gallery
World Tattoo Gallery recruits models from everywhere. It has male and female employees and likes to keep its tattoo models under the spotlight. Additionally, it features the artwork of professional tattoo artists. They can contact the company via its website to exhibit their best pieces.
These are the top-rated organizations for aspiring tattoo models. Other than those, you can look into Blink Model Management, The Dragonfly Agency, and EnvyModel. They also have a reputation for welcoming tattoo models to their line of work.
Can Runway Models Have Tattoos?
The answer depends on what the designer wants and what kind of show they want to run. There are some conditions a model has to comply with to perform in that show.
There were debates in the past over the subject of runway models with tattoos. They did not have a positive impression on the conservative people, causing models to conceal their tattoos and employers to be more rigid about this criterion.
But runway modeling usually includes the display of clothing from a specific designer. So that makes it more flexible. They do not mind their models having tattoos. Then again, if you apply somewhere that has a strict no-tattoo rule, you may have to look into other places.
Frequently Asked Questions
Can male models have tattoos?
Yes, male models can have tattoos. In fact, it is going on top of the trend as there is a high demand from prominent brands. There is no specific limit to skin color, size, and age to apply under this category, thanks to the industry becoming more diversified.
Can fitness models have tattoos?
Yes, of course. A tattoo should not be an issue for fitness models unless the employer requires it otherwise.
What are some factors to consider for someone who wants to be a model but has a tattoo?
The principal factor to consider is the requirement of the job. Then comes the size and place of the tattoo.
Final Words
If you still want me to give you a straight answer, this is the best I have.
You can be a tattoo model so long as you fulfill the job specifications. But certain areas will not allow it, so they will not be your options, even if they are your preferred ones. Anyway, many organizations take tattoo models. You can always try them.
Last but not least, with the way the industry is moving toward inclusivity, it is only a matter of time before you get to work anywhere you want as a tattoo model. Till then, may the odds be in your favor!
Related Posts